TOP 10 Kyoto Ryokan ! at 【My Best】Travel Site
Hi welcome to RISSHISHA!
Today, Kyoto`s weather is very nice, warm, quite windy but also nice to strolling around Kyoto. 
We have good news for today. 
Last week our MIBU-JUKU Umekoji hotel was record as [Best 10 Must Visit Ryokan in Kyoto!]

 from one of Japanese Travel Site [My Best] 
https://my-best.com/7330
Not only that,  our hotel also got 3rd grade, How awesome isn`t it

So what are you waiting for?! Stay at our MIBU-JUKU hotel when you travel to Kyoto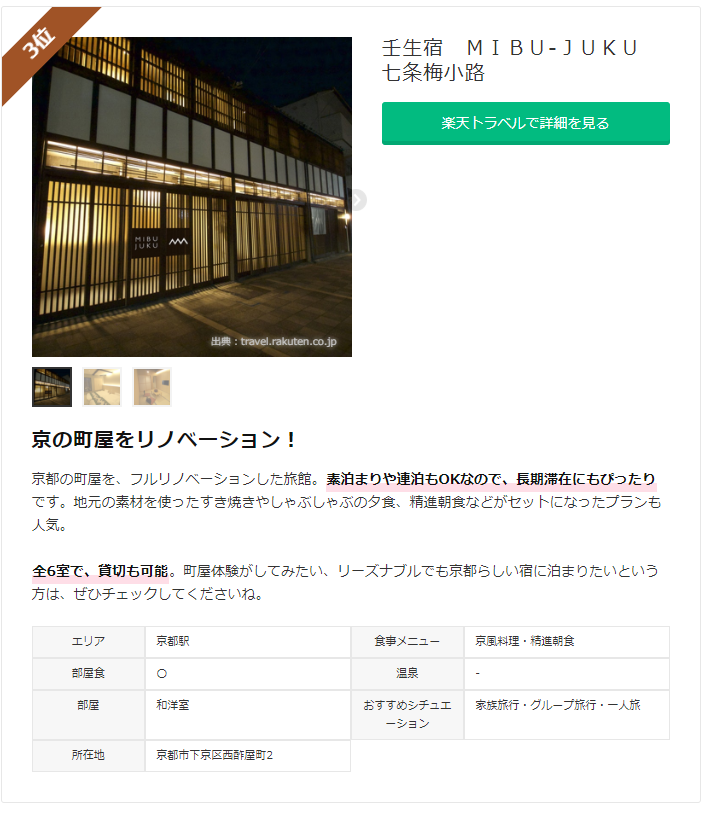 Hai Jumpa lagi dengan RISSHISHA!
Hari ini cuaca di kyoto cukup bagus, cerah hangat, namun cukup berangin, tapi merupakan saat yang bagus untuk berkeliling Kyoto. 
Hari ini kami punya kabar gembira!
Minggu lalu salah satu hotel kami MIBU-JUKU masuk ke dalam kategori [10 Ryokan yang wajib di kunjungi saat berlibur ke Kyoto] versi situs travel jepang [My Best]

.
https://my-best.com/7330
Tidak hanya itu MIBU-JUKU pun masuk dalam urutan ke -3

Jadi jangan ragu lagi ayo berkunjung ke Kyoto dan menginap di Ryokan kami.