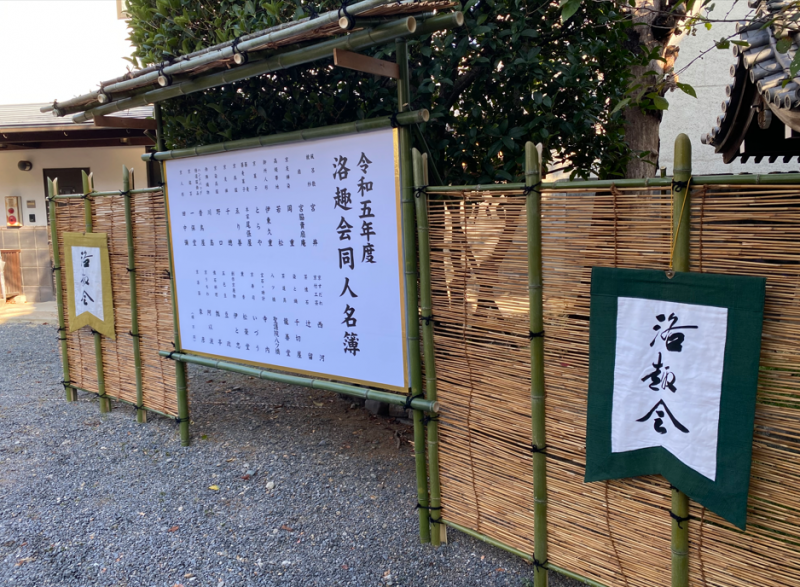 Hello I'm Imazu,
and this is my very first blog post.

I went to Rakushukai this time,
which was held at the street's name, Bukkoji Temple.

Since 1928, a large temple in Kyoto holds the annual Rakushukai exhibition
on November 3 and 4, during it about thirty famous long-established businesses
openly showcase their products.

But when you go back and view the situation thoroughly,
it appears that long-standing businesses with solid customers
might use it to introduce one another's customers.
The list of Long Founded company
Post card as an invitation
["I'm not trying to sell you anything, I'll give you an acknowledge."]

Founded member companies displayed their goods in a booth
measuring approximately 180 cm in width. The invitation said,
"We can't sell them here, but please take a look and recognize them."
The postcard that will carry this title has it written on it.
Each day of the year, more than 3,000 people with platinum tickets visit the Rakushukai.
(This year, about 1500 people attended.)

Because it's not an exhibition where you have to buy a ticket to enter the venue,
the platinum ticket is named these because only regular customers of these long-standing stores
are permitted to receive an invitation on a postcard that increases as an admission ticket. 
It's also a gathering place for trustworthy consumers and quality products.
The "Mamemasa" exhibition has several kinds of popular bean sweets.
At Miyawaki Kaisenan, an exact replica of a Heian-era cypress fan, some people lean forward.
There are smiles everywhere at the Rakushukai venue (this year we are limiting the number of people at different times). I managed to watch the show at a slower pace.
We are going to serving matcha tea and soba noodles at this exhibition
since we are inviting elite customers.
Shachu of the Omotesenke tea ceremony will take charge of the tea ceremony venue on the third day,
and Urasenke will guide the tea ceremony on the fourth.
Toraya makes the main sweets,
while a part company Ippodo Chaho makes the matcha.
The other company, Honke Owariya, served as the soba venue. (This year's Soba seats are still unavailable. 

As an Omotesenke college member,
I have actually been involved in this association for the past 20 years.
For the first time in four years,
we will be hosting Rakushukai this year after the coronavirus pandemic.
For the customers who came as well as the long-standing companies that welcomed us,
it was a much-anticipated event.
Maybe because of this, I felt the energy and liveliness of everyone,
and by the time I left, I felt renewed.

The entirety of Kyoto will become a lovely color of gold,
and we will be entering the incredible "autumn of a brocade."

The whole city of Kyoto is looking forward to your visit.
Come and see "beautiful Kyoto" for yourself.